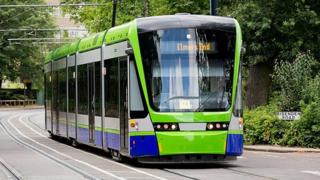 London's trams are being fitted with automatic braking systems three years after a derailment killed seven people.
The safety measure is one of 15 recommended by the Rail Accidents Investigation Branch (RAIB) following its inquiry into the Croydon crash in November 2016.
Sixty one people were also injured when the tram, travelling at almost four times the speed limit, derailed.
TfL said the installation took three years because it "needed to be right".
London will be the first UK tram service to have an automatic braking system.
Yellow beacons on tracks will monitor speeds and automatically apply the brakes if a tram exceeds speed limits.
The tram that crashed on a curve approaching the Sandilands stop in Croydon, was travelling at 43.5mph in a 12mph zone, investigators found.
"This is a particularly complex system where you are dealing with trams that are 20-years-old and we're having to install something that interferes… with the acceleration and braking systems of the tram and we need to know it's right," said Mark Davis, Transport for London's general manager of London Trams.
The new braking system would initially be configured for priority high-risk locations, but would be fitted in all trams by the end of the year TfL added.
Automatic braking will operate alongside another system launched in 2017 to warn of driver distraction and tiredness.
'Very reassuring'
During its investigations the RAIB found the driver had taken a micro-sleep and that this was linked to fatigue.
Andy Benham, a tram driver not involved in the crash, has been using a simulator to train for the new safety system.
"It's very reassuring. At the moment a lot of the driving is just down to the driver, so having this as a back-up in case anything should go wrong, you know you are safe," he said.
Other safety measures include cats eyes fitted in tunnels and chevrons painted on bends to help the driver.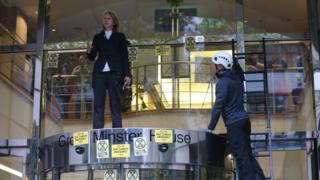 Extinction Rebellion activists are continuing protests despite a London-wide ban by police.
The group says it will challenge the ban, saying it believes it is unlawful. Lawyers and politicians have also criticised the move.
Meanwhile climate change protesters targeted the Department for Transport and MI5 on Tuesday morning.
A government spokeswoman said protests "should not disrupt people's day-to-day lives".
Extinction Rebellion's co-founder, Gail Bradbrook, was arrested after climbing on to the entrance of the Department for Transport on Tuesday morning. Police also cleared further protesters from outside the building.
Activists have also been arrested on Millbank outside MI5's headquarters, where a small group had gathered. Two men briefly sat in the middle of the road before being moved by officers.
On Monday evening, the Metropolitan Police began clearing protesters from Trafalgar Square following the announcement of a ban on the protests.
Under Section 14 of the Public Order Act, the force had imposed conditions requiring activists to stop their protests in central London by 21:00 BST on 14 October or risk arrest.
The Metropolitan Police said that the ban was imposed after "continued breaches" of a condition limiting the demonstration to Trafalgar Square.
Speaking to the Victoria Derbyshire programme, Extinction Rebellion campaigner and former Met Police officer Paul Stephens said: "Police are being really sloppy with the law, and it won't stand up in court."
He added that "there will be a judicial review".
Mayor of London Sadiq Khan has said he is "seeking further information" about the decision to impose the ban and why it was necessary.
"I believe the right to peaceful and lawful protest must always be upheld," he said.
A spokeswoman for the government said the UK was "already taking world-leading action to combat climate change".
The statement added: "While we share people's concerns about global warming, and respect the right to peaceful protest, it should not disrupt people's day-to-day lives."
'Overreach of powers'
Meanwhile, lawyers have questioned whether the ban by police was legal.
Anti-Brexit barrister Jo Maugham QC said the move was "a huge overreach" of police powers, while human rights lawyer Adam Wagner described it as "draconian and extremely heavy-handed".
Mr Wagner added in a tweet: ""We have a right to free speech under article 10 and to free assembly under article 11 of the (annex to the) Human Rights Act. These can only be interfered with if the interference is lawful and proportionate. I think the police may have gone too far here."
Shadow policing and crime minister Louise Haigh said it was "a grotesque overreaction and extremely worrying attack on basic civil liberties."
Allan Hogarth, of Amnesty International, issued a statement saying the ban was "an unlawful restriction on the rights to freedom of expression and peaceful assembly".
A number of demonstrations have been staged across the capital by Extinction Rebellion, which is calling on the government to do more to tackle climate change.
The protests were due to last two weeks and have led to more than 1,400 arrests.
The Met said there had been 1,457 arrests by 08:45 BST on Tuesday, in connection with the nine days of Extinction Rebellion protests in London.
Last week, the Home Office confirmed to BBC News that it was reviewing police powers around protests in response to recent demonstrations.
What are the rules around protests?
Police have the powers to ban a protest under the Public Order Act 1986, if a senior officer has reasonable belief that it may cause "serious disruption to the life of the community".
Police are also under a duty to balance the task of keeping the streets open with the right freedom of assembly under the Article 11 of the Human Rights Act 1998 and freedom of expression, under Article 10. These rights are not absolute – the state can curtail them.
However, the BBC's home affairs correspondent Dominic Casciani said: "The test, if and when it gets to a court battle, is whether police action was proportionate to threat and only what was strictly necessary."
By law, the organiser of a public march must tell the police certain information in writing six days in advance.
Police have the power to limit or change the route of the march or set other conditions.
A Section 14 notice issued under the Public Order Act allows police to impose conditions on a static protest and individuals who fail to comply with these can be arrested.


electronic pest control st johns wood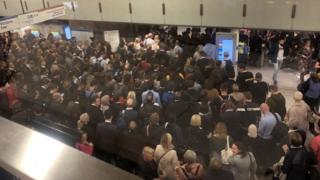 Passengers are facing travel disruption after an entire London Underground line was suspended due to a signal systems failure at the main control centre.
One commuter tweeted that he "hated the Northern Line", which was suspended just before 06:00 BST.
The Tube line connects transport hubs Waterloo, King's Cross and Euston and is used by more than 800,000 people every day.
Transport for London said it was "working hard to restore the service".
Tube tickets are being accepted on Southeastern and Thameslink trains, as well as on trams and buses.
Both the Bakerloo and Metropolitan lines also have minor delays as a result of the signals failure.
The delays come as schools open for the new term this week and commuters on social media complained of having to queue to access stations.
Replacement buses through London are reported to be overcrowded, with one commuter complaining it was "everyone for themselves".
People also said they had been forced to miss trains from King's Cross and Euston because of the disruption.
Brian Woodhead, London Underground's director of customer service, said: "I am extremely sorry for the disruption suffered by customers on the Northern Line today following a signalling system failure at our control centre.
"Our engineers are working hard to fix the problem and restore a full service as quickly as possible."